This new service can help you identify
the attempts to spoof your brand and deceive your valued customers.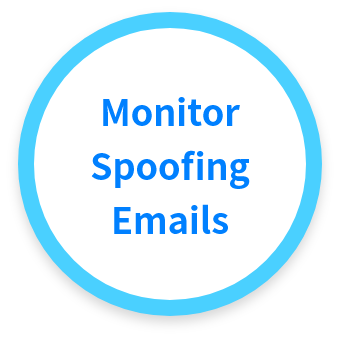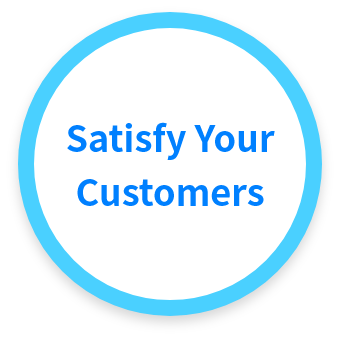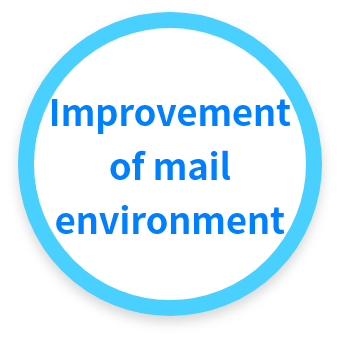 Let's get started free!
Contact us
Watch the features of DMARC / 25 in the video.
Is there any countermeasure against spoofing emails?
The impact caused by spoofing emails and malware,
viruses and phishing emails that steal personal information, is growing year on year.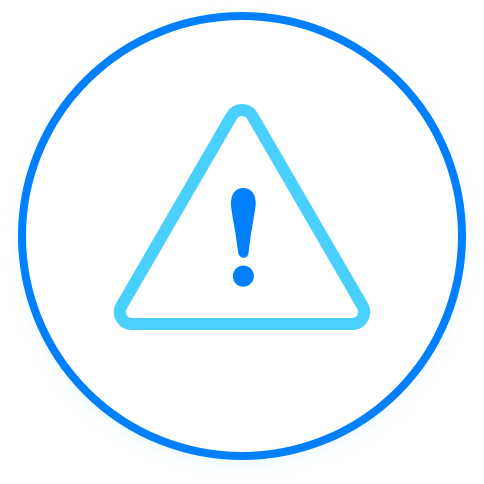 Information exploitation, monetary damages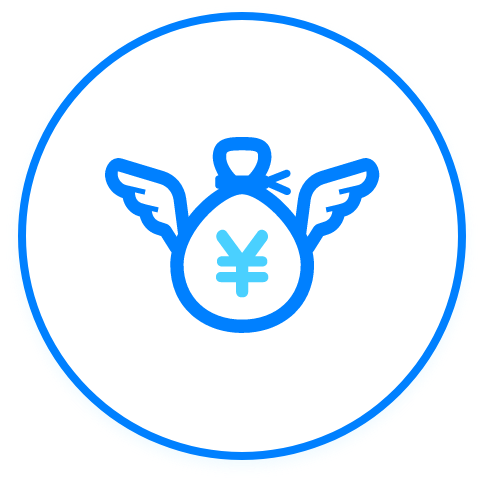 Increased support costs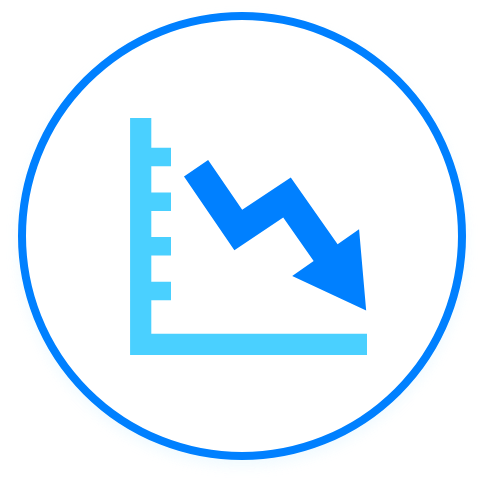 Deterioration of corporate image
Can you distinguish this tricky spoofed email?
Phishing techniques are too sophisticated to distinguish easily.
It's quite important not allow sending spoofing emails.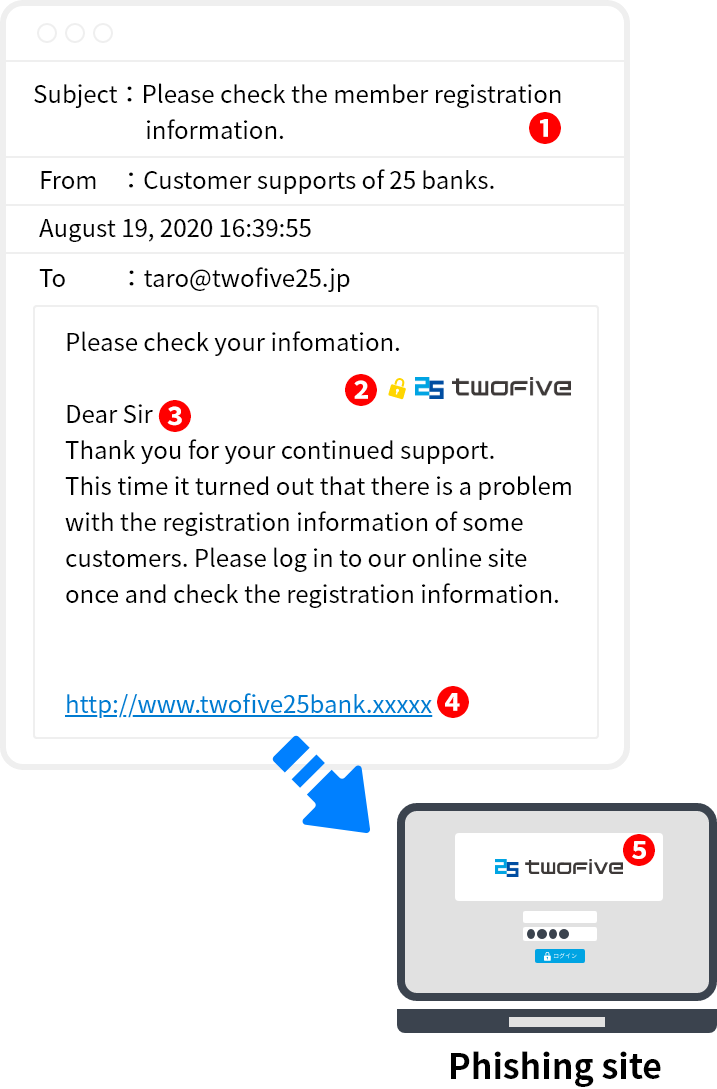 ①Though this seems to be sent from legitimate customer support at first sight, this has no display name and spoofed RFC5322.From.
②A legitimate logo mark is embedded in this message and it seems to be similar.
③There are so many messages which contain unnatural language, but their accuracy improved by copying a legitimate message.
④The URL in this message shows the legitimate domain. But this HTML mail can mislead readers to a phishing site with similar looking URL embedded in the link tag.
⑤Attackers lure customers to a phishing site made with some copied code and images. Furthermore they use a quite similar domain name for the site.
How can we disrupt them ?
DMARC
Domain-based Message Authentication, Reporting and Conformance (DMARC) is a technique in which domain administrators announce their policies, about how the receiver side should deal with spoofed emails deteced with existing sender authentication techniques such as SPF and DKIM.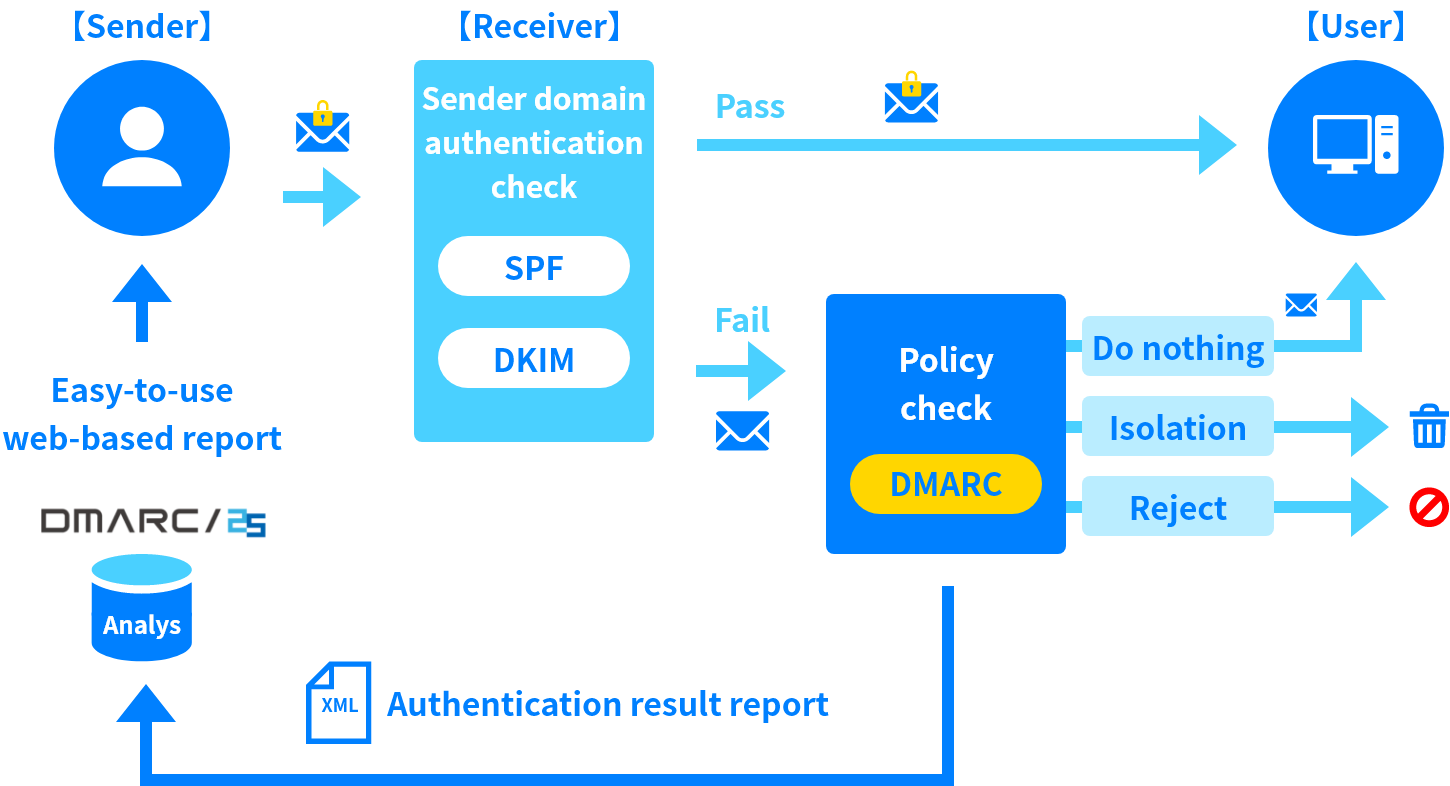 However, DMARC report aggregation and analysis is difficult.
Analysis of DMARC requires specialized knowledge, and analysis/aggregation is very difficult.
With DMARC/25 you can detect and visualize spoofed emails!
Using DMARC/25, you can report,
analyze and visualize details of emails sent to your customers using providers that have adopted DMARC.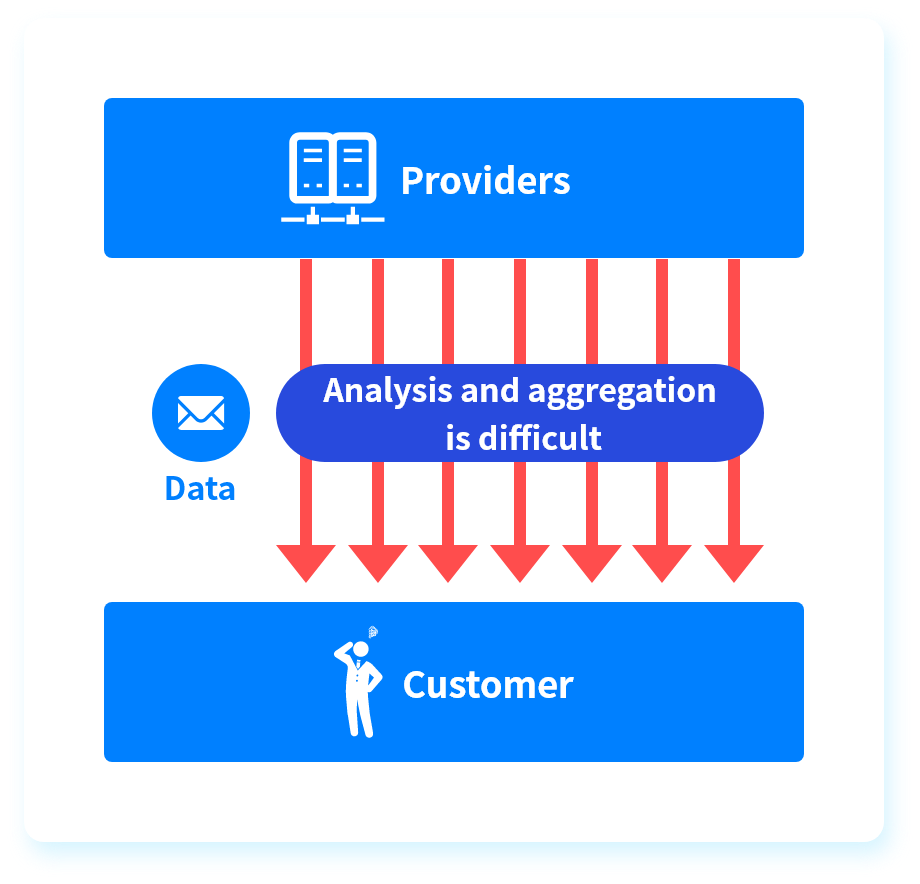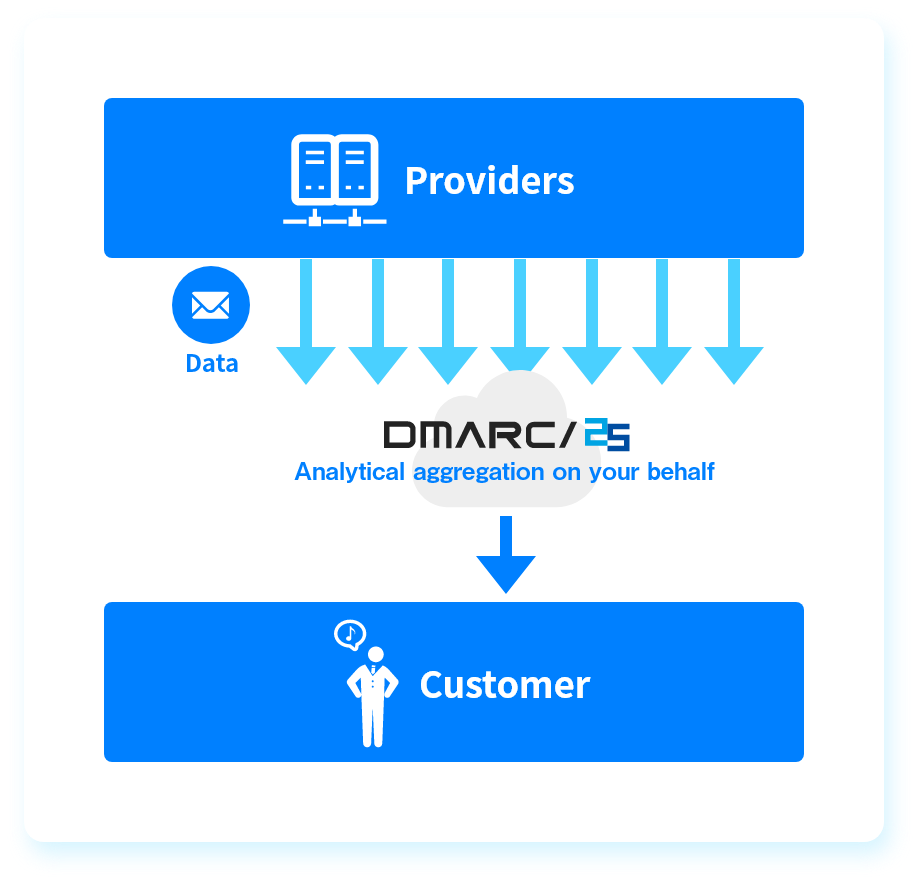 What can this do ?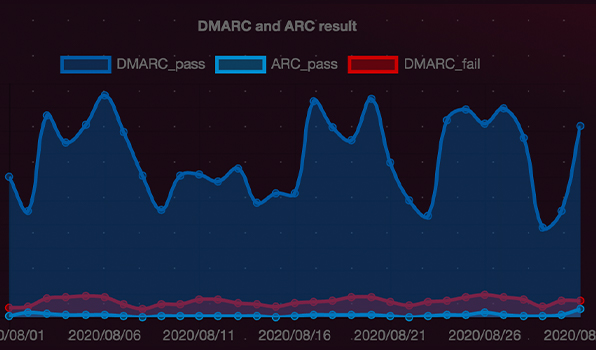 Find spoof email
The result of the certification report can be graphed (time series graph, pie graph) and you can grasp the status of anti-spoofing measures such as "At one point, emails pretending to be your domain were circulating".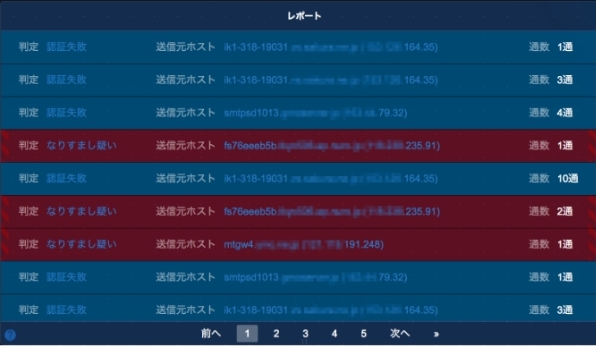 Status of mail system
Analyzes the DMARC certification result report and classifies the report based on the certification result.
You can easily grasp.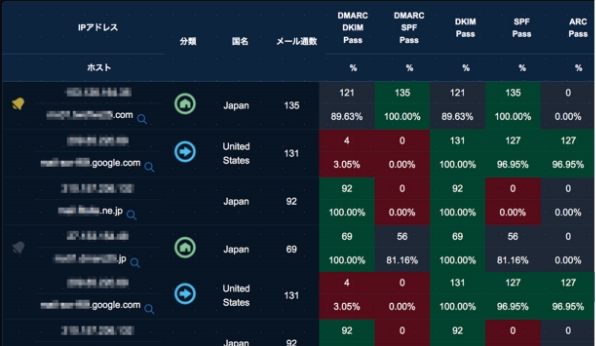 Visualization of processing results
You can grasp in a list which of the "received/quarantine/rejected" that the email you sent. You can easily understand the actual damage situation.
Chart of the number of dispositions(*)
result of DMARC/25 observation as of May 2020.
Chart of the the number of reporters by ccTLD/gTLD(*)
result of DMARC/25 observation as of November 2019.
There are
many
other functions.
Daily alert
An alert will be sent by email once a day based on preset conditions (failure rate, difference from the previous day, etc.).
Policy simulator
Estimate the effect and influence of protection against spoofed emails when the DMARC policy is changed based on the email distribution status.
Consulting Services
Our analyst analyzes your email environment and reports. We will propose and help you with the best measures.
FAQ
What do you need to get started?
You can import it by setting a DMARC record in your domain's DNS.
DMARC can be imported regardless of whether SPF record is set or DKIM is not set.
If you haven't already done so, we support import.
Does it affect your existing mail server system?
DMARC/25 can be used with simple DNS settings without any modification to existing systems.
Also, it does not affect the sending and receiving of mail.
Even if you use a cloud service such as Microsoft 365 or G Suite, you can easily import it.
I want to try it.
A trial version is available. You can monitor DMARC reports for free for one month.
So far, I have not been victimized by spoofed emails.
It is difficult for ourselves to understand phishing emails that tricked our own domain.
Let's start by setting up DMARC and knowing if phishing emails are circulating.
I already received the DMARC report in-house. Is it possible to use it with DMARC/25?
Yes. You can set multiple report email addresses in the DMARC settings. You can also automatically transfer from your email address to the DMARC/25 report destination, or upload past reports saved locally from your browser.
I have a domain, but doing not use it to send mail.
Even domains that you do not use for mail can be the target of spoofed mail.
It is important to set the proper DMARC settings and analyze the DMARC reports.
How much does the DMARC/25 cost ?
Start with a free trial first!
You can use DMARC/25 free for one month
and monitor DMARC reports.
Contact by phone
03-5704-9948
Reception hours 9:00-18:00
Excluding weekends and holidays
Quick start guide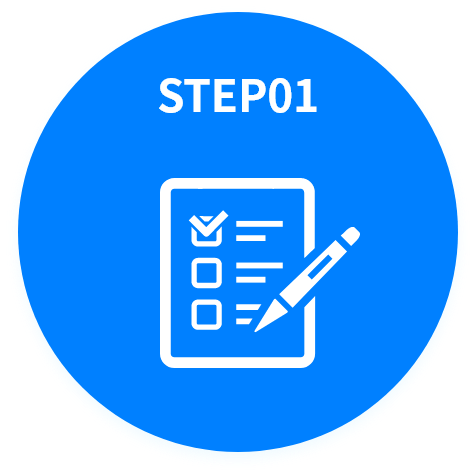 Apply for service
Please submit the application form to us after agreeing to the service usage agreement.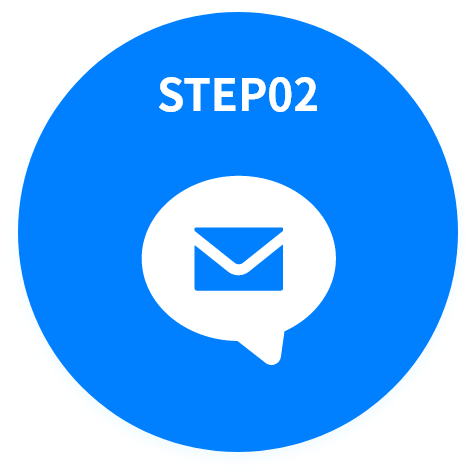 Notification account and report address
We will notify you by issuing an account and email address for receiving reports.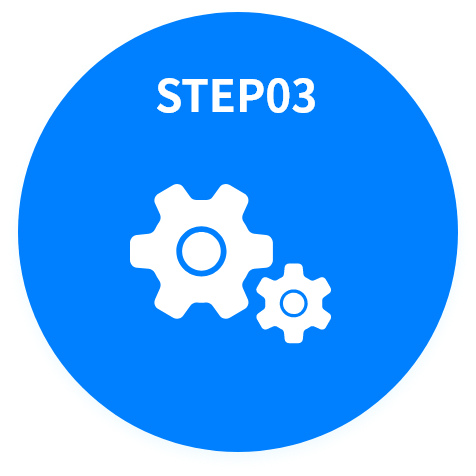 Setting to DNS
Please set the report address you contacted in the DNS of the target domain. If it has already been set, add it.
Start with a free trial first!
You can use DMARC/25 free for one month
and monitor DMARC reports.
Contact by phone
03-5704-9948
Reception hours 9:00-18:00
Excluding weekends and holidays

Our company has dealt with email security for many years.We developed DMARC/25 from the ground up as a cloud service for the enterprise use though consulting with various customers.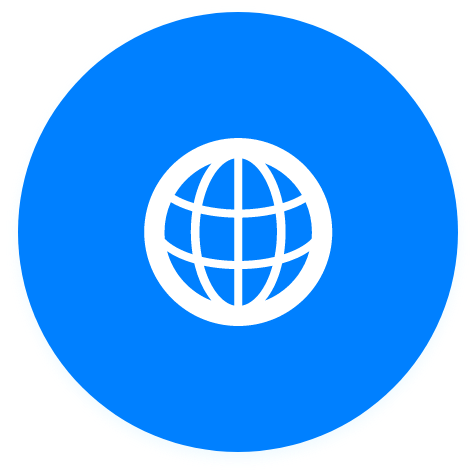 We're actively working overseas.
Our company and engineers actively participate in overseas efforts like M3AAWG(*), and support you with the latest technology.
*M3AAWG(Messaging, Malware and Mobile Anti-Abuse Working Group)M3AAWG is a working group, which consists of 200 telecommunication carriers, ISP and organizations in the email industry, and which discusses the measures against various email threats, such as malware, spam, viruses and DoS attacks.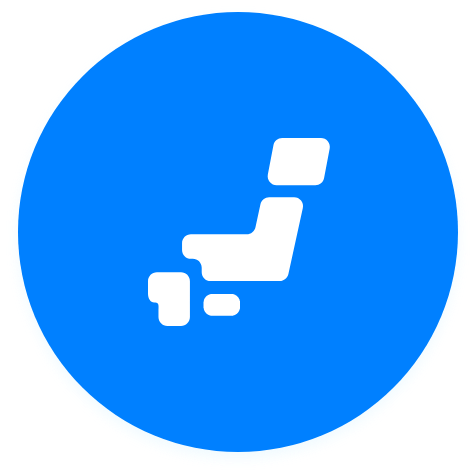 We're working hard at a national level as well.
In Japan we're working against spoofed emails through activities as a member of JPAAWG(Japan Anti-Abuse Working Group), JADAC and Internet Association Japan.

Check the TwoFive corporate site